Responsible Fishing in Istanbul
Istanbul's geography and in specific the salinity and temperature differences between the Mediterranean and the Black Sea allows for an abundant amount of fish around the city's waterways. Fisherman are spoiled for choice even though pollution has reduced fish at the Golden Horn, while other fishing is done at one of the stretches along the Black Sea, Marmara Sea and Bosphorus.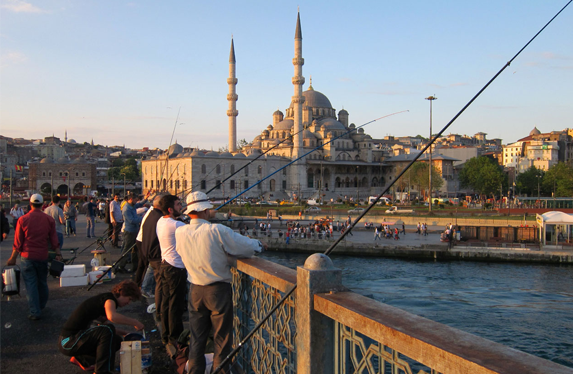 When going to the Asian side an excellent fishing opportunity awaits on Marmara Seacoast while suitable places also include Kuleli Askeri Lisesi or Anadolu Kavagi a bit further up the coast. If you venture to the European side you have excellent fishing opportunities at Rumelihisari, Yeniköy, Arnavutköy, Büyükdere, Asiyan and Tarabya.
When you take a walk from Eminonu to Karakoy across the Galata Bridge and you will always see fishermen on the pedestrian walkway as this is one of the city's best known fishing spots where locals love catching daily. It is a famous spot where visitors will find educational information as well as pictures of local fish for those who have not yet visited the local restaurants. Some of the most famous fish species many are familiar with eaten in restaurants and around dinner tables in Istanbul homes include horse mackerel, sardines and anchovy.
Few people realize that commercial fishing could have a significant detrimental effect on a natural resource such as fish. Turkey has developed a plan in keeping a tight hand on fishing with rules everybody must abide by. Responsible fishing is encourage to give all immature and young fish a reproduction chance. The downside with the regulations set in place by the Turkish government is that the minimum size are far below an adult fish length, thus still allowing catching of immature fish.
A campaign Seninki Kac Santim via Greenpeace now provide a ruler to anglers to guide sizes of fish like the kalkan, palamum levrek, lufer, mezgit, barbunya, istavrit, tekir and hamsi. These are all local species in Istanbul which are in danger of becoming extinct if rules and regulations are not followed.
If you are an Istanbul stranger you will find that fishing is a top priority among the locals with friendly camaraderie among the local fishermen. Even though friendly you will find little advice or help though and being prepared with gear and bait is what anyone would recommend. An abundance of shops selling everything from fishing rods, sinkers, hooks and bait are along the Yeralti Cami, Karakoy, and Tahtakale.